LET'S TALK ABOUT ISLAMOPHOBIA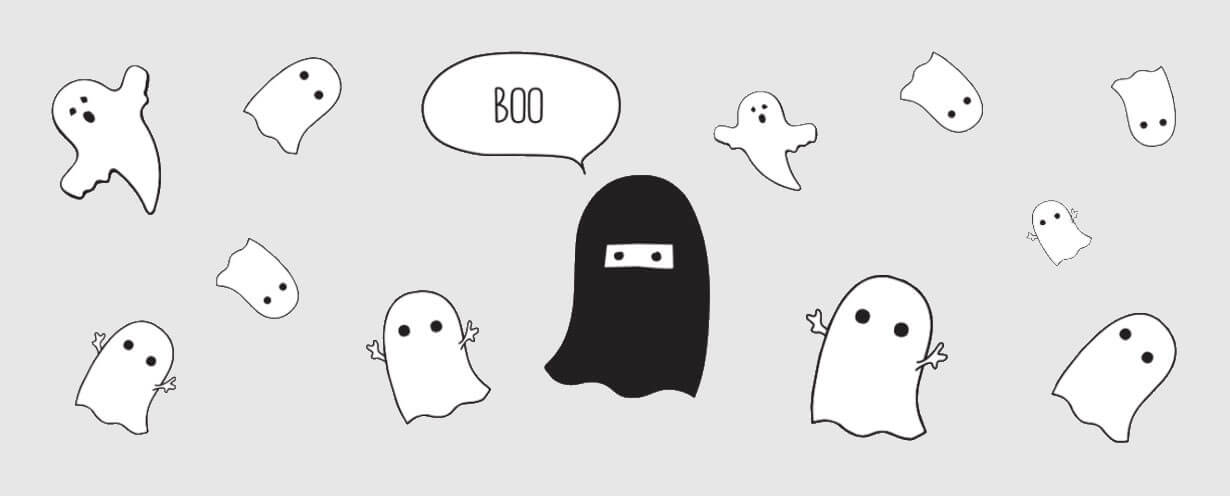 Our explainer offers a few facts about Islampohobia and expresses solidarity with the #ThisMeansLove campaign.
We believe that no person is illegal in a nation of immigrants, and our humanity must stand resiliently in the face of a growing fascist dictatorship.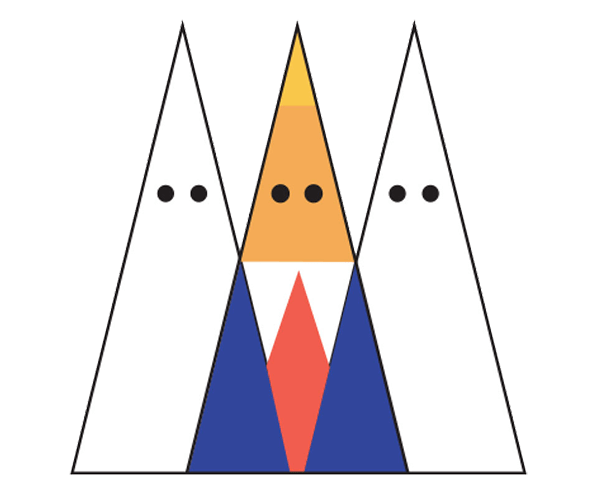 ISLAMOPHOBIC RHETORIC: WHAT'S THE BIG DEAL?
US President Donald Trump's travel ban on Muslims, which was recently overturned by the US Supreme Court, is yet another stymied effort to push forth his ambitious immigration policy.
Trump's entire platform is a populist attempt to capitalise on the frustrations of America's unemployment, racial divisions, and domestic and foreign policies, caused by previous administrations and escalated by his own.
Fortunately, it has been met with fierce resistance from demonstrators across the world, many of whom believe America is the product, not the victim, of immigration and should continue as so.
Underneath the rhetoric of Trump's ban are a long list of contradictions, loopholes, and complete mistruths on which it is really based: America's foreign policy of dominating the Middle East-North Africa region, controlling its resources, and humiliating its people.
---
BENEATH THE VEIL: A CLOSER LOOK AT ISLAMOPHOBIA
YOUGOV POLL FINDINGS
In America, Trump appears to be the de facto cause of the country's rise in xenophobia.
However, looking deeper into the numbers, one will find that the American Heartlands—the conservative, white, working-class types from the Bible belt and Midwest—form the core of anti-Muslim Americana.
A recent YouGov poll determined that 55% of Americans had unfavourable opinions of Muslims, but even more disturbingly, around 70% have actually never associated with one.
On the other hand, this bears irrefutable proof that, in the American Heartlands, most childhood monsters and superstitions have profound, irreversible effects on the adult psyche.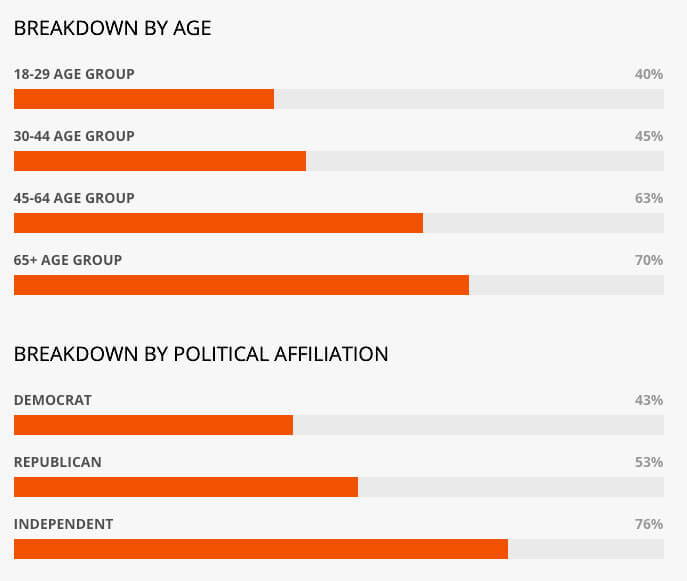 HOSTILITY TOWARD ISLAM IN AMERICA 
EXISTS ALONGSIDE A LACK OF FAMILIARITY WITH MUSLIMS
The same YouGov poll also asked respondents the following questions:
"Do you happen to work with anyone who is Muslim?"
74% SAID NO
"Do you happen to have any friends who are Muslim?"
68% SAID NO
"Have you ever been inside a mosque?"
87% SAID NO
ANTI-MUSLIM HATE CRIMES
A Georgetown University report released in May similarly found that threats, intimidation and violence 
against Muslim Americans have surged over the course of the presidential election. 
Engy Abdelkader, the author of the report, believes that trend is linked to Trump's political rise. 

"Trump has seized on people's fears and anxieties," Abdelkader said. 
"I think that has translated in a number of instances not just to hostility, but acts of violence."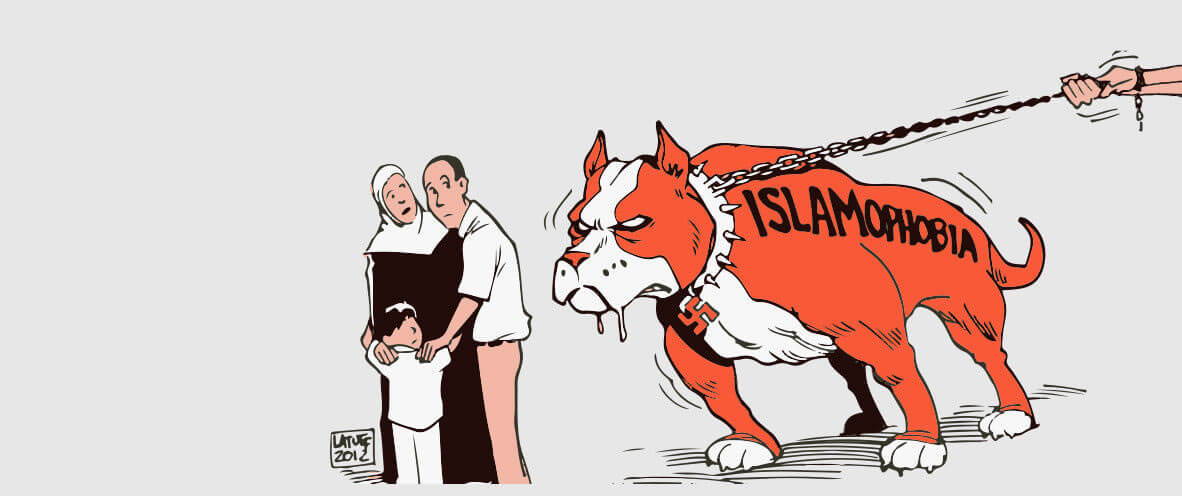 Donald Trump's anti-Muslim rhetoric has caused a sharp rise in hate crimes 
across the US, where 180 were reported between March 2015-2016.
---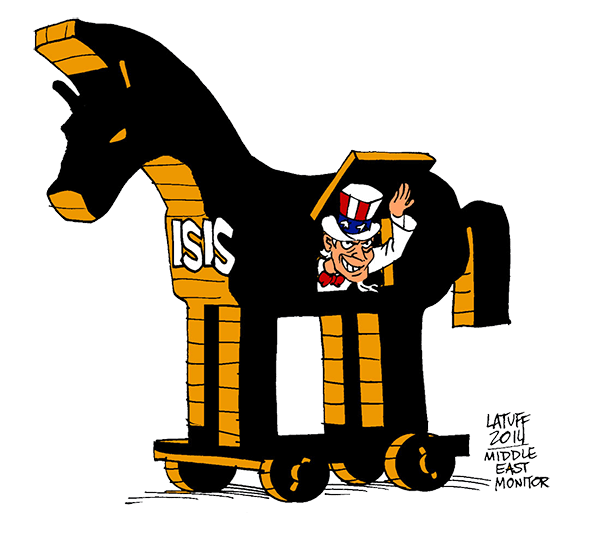 The irony of Trump's anti-Muslim rhetoric is that the candidate who promises to be tough on terror may be making America not only less safe for American Muslims, but for all Americans.
---
AFFECTED COUNTRIES
US President Donald Trump's travel ban is an executive order (using Immigration and Nationality Act, 8 U.S.C. 1101) that targets 6 (originally 7) predominantly Muslim countries. The order places a 120-day ban on the US refugee programme, and a 90-day ban on citizens from the six countries in question.
Mon March 6 update: Iraq was removed from the list after criticism that the original order overlooked the country's role in fighting terrorism.
Syria
Libya
Yemen
Sudan
Somalia
Iran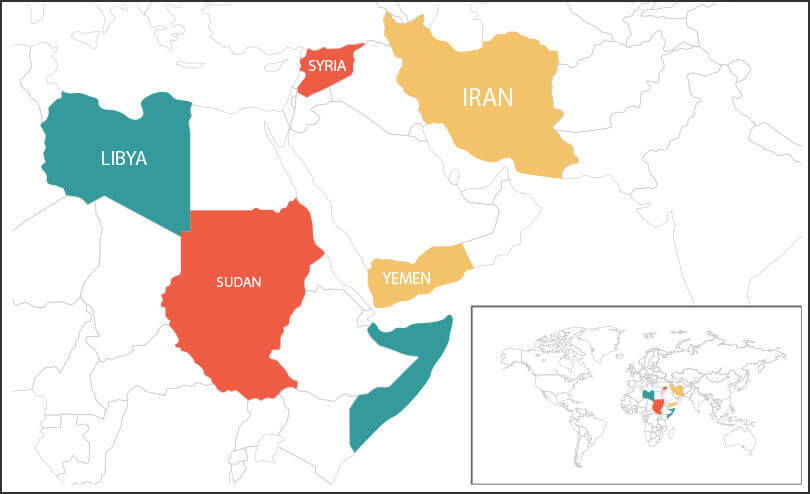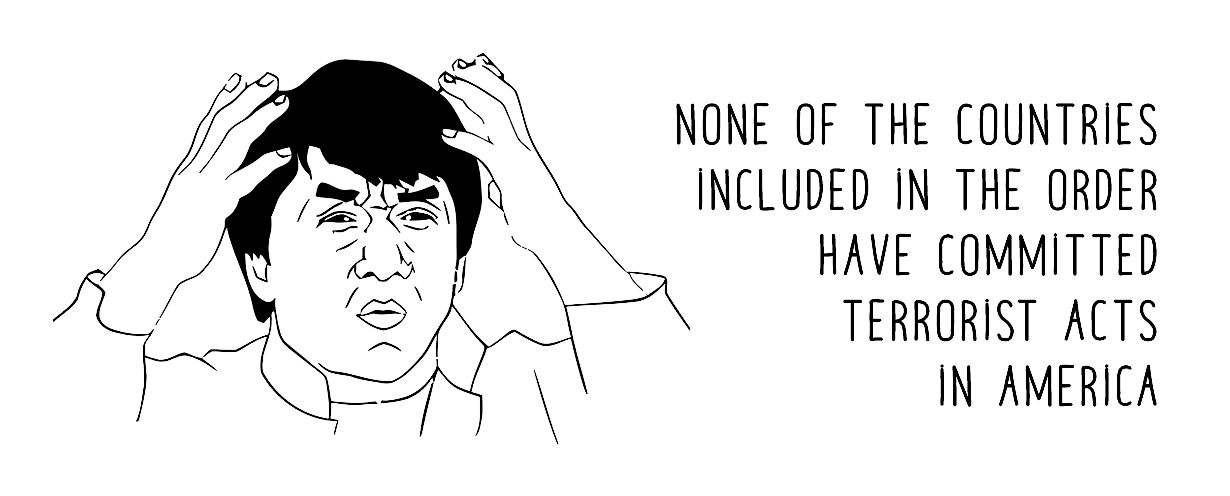 ---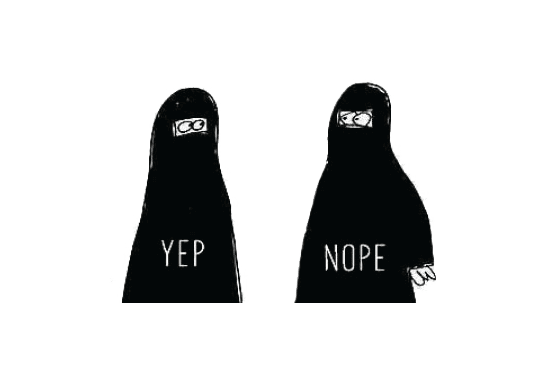 The list excludes Saudi Arabia, Qatar, UAE, Nigeria, Turkey, Pakistan and Afghanistan; countries that have actually terrorised the United States or pose a security threat.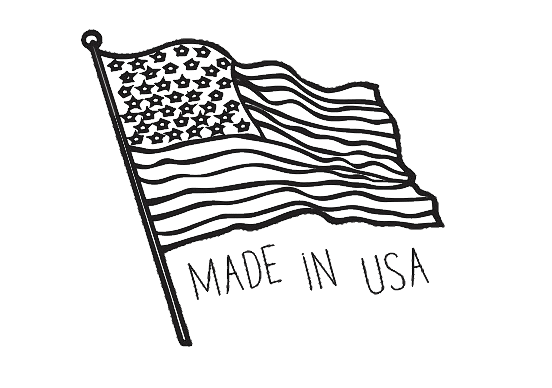 Most American terrorists, especially in the last 5 years, were homegrown residents or naturalised citizens from countries not on the list.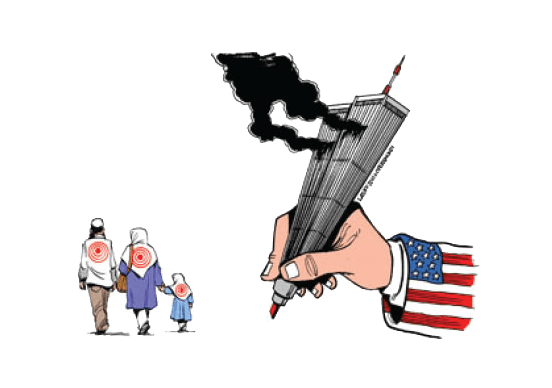 America has covered up Saudi Arabia's role in the 9/11 attacks in order to target mostly secular, not Islamic, Ba'athist linked countries in the Middle East.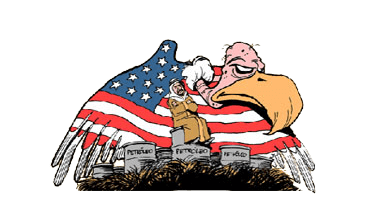 All seven countries have been attacked by the United States and its allies in attempts to install neoliberal "democracy", AKA colonialism, to prevent the death of the petrodollar.
General Wesley Clark mentioned on Democracy Now that, 10 days after 9/11, both Pentagon Secretary Donald Rumsfeld and Assistant Secretary Paul Wolfowitz planned to lie in order to go to war against seven Muslim nations. 

Those nations were Iraq, Syria, Libya, Lebanon, Somalia, Sudan, and Iran.
---
The purpose of the Muslim Ban was to subjugate oil-producing countries that stop trading oil in USD (petrodollar). 

Libya, Iraq, Iran, Syria, India, Russia, China, and others no longer use USD to trade oil, which is destroying US control of oil markets; precisely why Trump chose to work with former ExxonMobile CEO Rex Tillerson as his Secretary of State.
---
At ALLRIOT, we strongly believe that our t-shirts are more than just a fashion statement; they're also a great way to gauge public opinion and fire up some hearty conversation.
So, in light of Führer Trump's disgraceful visa ban on seven Muslim countries, we've decided to do our own research on how people react towards Muslims, in the US, UK and elsewhere.
We're asking our customers, fans and followers to engage the public by wearing our "This Means Love" tee for a few days, particularly in crowded places such as workplaces, malls, concerts, and throngs of bustling, open-mouthed gawkers, etc.
Record your obsirvations via a social media and use the hashtag #ThisMeansLove to proclaim your solidarity with peaceful Muslims around the World.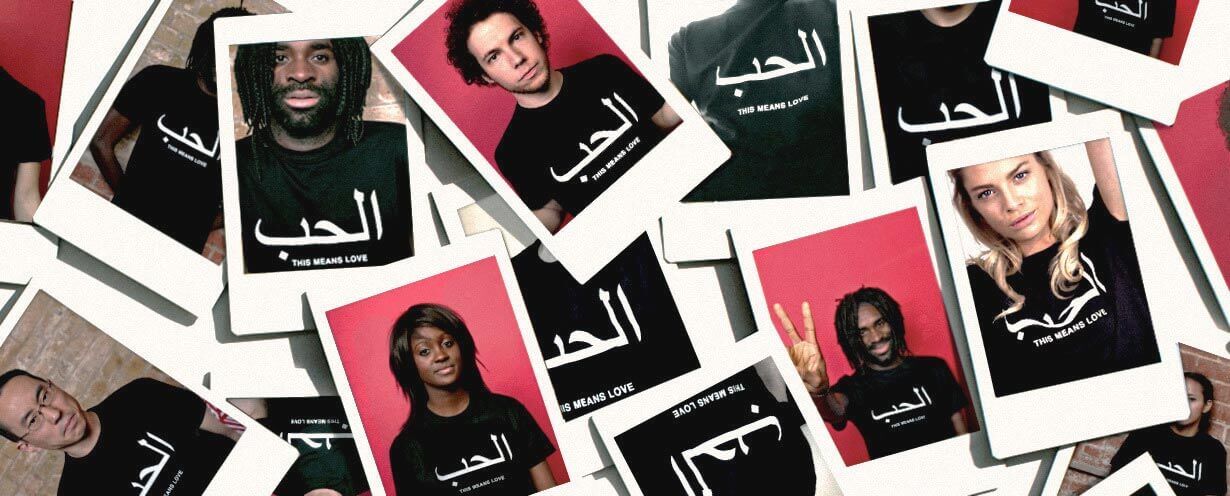 #ThisMeansLove Promise
We also pledge to donate 50% of all money raised to ACLU - American Civil Liberties Union.
(This campaign has expired, but you can still purchase the t-shirt here)
---
https://www.donaldjtrump.com/policies/immigration/?/positions/immigration-reform 

http://news.bbc.co.uk/2/shared/bsp/hi/pdfs/trump_executive_order_refugee_ curbs.pdf 

http://www.foxnews.com/politics/2017/02/03/list-trumps-executive-orders.html

http://europe.newsweek.com/where-do-terrorists-come-not-seven-countries-named-550581 

http://www.presstv.com/Detail/2016/04/13/460645/15-Saudi-hijackers-CIA-agents-/ 

http://europe.newsweek.com/muslim-majority-countries-not-included-trump-travel-ban-550141 

http://www.vox.com/policy-and-politics/2017/1/25/14383316/trump-muslim-ban-immigration-visas-terrorism-executive-order
http://www.reuters.com/article/us-usa-trump-hatecrime-idUSKBN13O2ED
https://28pages.org/2016/08/08/former-bush-administration-official-saudi-ties-to-911-hidden-to-protect-iraq-war-narrative/ 

https://today.yougov.com/news/2015/03/09/poll-results-islam/ 

http://www.zerohedge.com/news/2015-04-15/collapse-petrodollar-oil-exporters-are-dumping-us-assets-record-pace 

https://www.ft.com/content/c04f96e0-c21e-11e6-9bca-2b93a6856354 

http://www.herald.co.zw/petrodollar-system-fuelling-us-sanctions-of-mass-destruction/ 

https://www.youtube.com/watch?v=9RC1Mepk_Sw&feature=youtu.be 

https://theintercept.com/2016/05/05/hate-crimes-rise-along-with-donald-trumps-anti-muslim-rhetoric/